Festive Holiday Cocktails

Jolly Christmas Murals

Best Christmas Vibes
Tired of the same worn out Christmas Bars?
So are we!
Nashville Christmas pop-up bars have become uber lame. With over priced drinks, cheaply decorated with "Christmas" decor, and densely crowded spaces make a seemingly fun Christmas experience something for the Grinch.
That's why we created "Honky Tonk Party Christmas!" Nashville's delightfully tacky Christmas pop up! With over 2,500 sqft of Christmas goodness, you'll be treated to festive Christmas cocktails, joyful Christmas murals, fantastic Christmas vibes and even enjoy our snowmachine winter wonderland!
So if you are tired of the same ole hotel Christmas pop up bar and are looking for the real Christmas experience then come visit us at "Honky Tonk Party Christmas!" Don't forget to ask about our Christmas shuttles!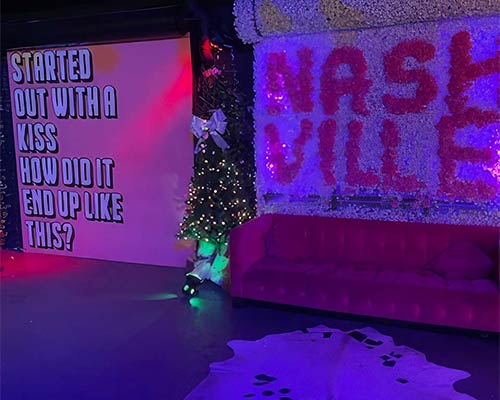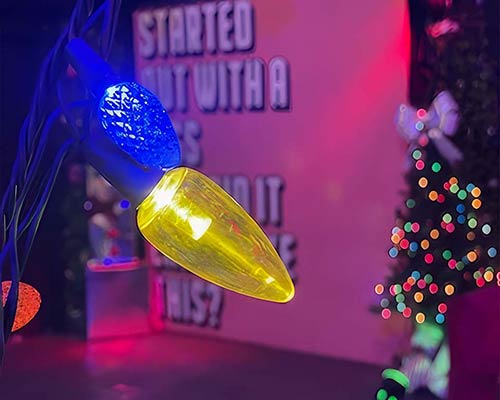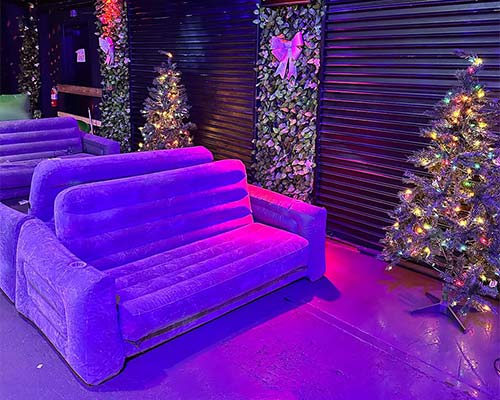 Festive Holiday Cocktails

Jolly Christmas Murals

Best Christmas Vibes

Why Honky Tonk Party Christmas?
Nashville offers a lot of Christmas pop up bars that are competing for your attention. Most of these christmas themed bars are located in hotels or small spaces that are overly crammed with people where it takes forever to get your over priced holiday themed cocktail drink.
That's why we created "Honky Tonk Party Christmas!" With over 12 years of experience in creating Christmas themed events, we wanted to create our Nashville Christmas bar that was easy to get a drink, fun to hang out and of course be the most delightfully tacky Christmas party in Nashville.
Our Nashville Christmas pop up features festive Christmas murals, delicious Christmas cocktails, over the top decorations and enough space for you and your friends to enjoy without being crowded. We even offer shuttle rides to get your friends to our Christmas pop up. If you are wanting to extend the party, ask about our party bus option add-on!
So if you are looking for the best tacky Christmas party that isn't overpriced, over crowded and will give you the best damn Christmas pop in Nashville, then join us at the "Honky Tonk Party Christmas."
Let Us Bring You To The Party!
Reserve your private Christmas themed shuttle
What people are saying...
"Best new Christmas pop-up bar in Nashville!' The Christmas vibes were on point"

"The snowmachine Winter wonderland was the highlight of the night! We couldn't stop playing in the snow!"

"It ain't Christmas til you go to "Honky Tonk Party Christmas!" Drinks were good and the decorations were great!
Frequently Asked Questions
Is there a cover charge to get in the Christmas pop up?

No, there is no charge to get into the event?
Do we need to RSVP?

Yes, even though it's not required to RSVP, it helps us know how many bartenders and how many floating bars to open to keep your drinks flowing.
Where do we park?

There is a parking lot next door called "Furryland." You can park there. It's 20 yards from the building. There is parking onsite. We suggest you Uber.
Do we have to dress up?

No, but it preferred that people come in with jolly good spirits! No Grinches!
How many people can the Christmas bar hold?

We can handle up-to 250 people.
What date are you open?

We are Open Thursday - Sunday | Nov 29th - Jan 20th | 5pm- whenever everyone leaves.
Can we rent the venue?

Yes! The venue rental is available Mondays | Tuesday | Weds for 3.5k. Inquire with our sales team.
Is there a contact number for any questions we may have?

Yes 615-388-2520.
Where is your bar located?

We are located at 1343 Lewis. You must walk through giant gates to access the bar. All parking is across the street.